Jesse Ferguson
This biography acknowledges the bravery and endurance of the men and women who came to Washington as immigrants and who did without necessities to make history. They dared dangers and endured hardships to save this area for the United States. This is a tribute to one of those who laid the foundation of our society and made possible the prosperity and advantages we enjoy today. This is to honor Jesse Ferguson, pioneer of Tumwater, Washington.

The subject of this sketch shall hereafter be referred to as Jesse. Jesse was born in Sandusky, Ohio, May 6, 1824, to Samuel and Jane (Bauser) Ferguson (1). The family soon after moved to Quincy, Illinois, at the edge of civilization in 1824. Jesse moved again with his family to Savannah, Missouri when he was 17- years-old.

After three years in Missouri, Jesse decided to immigrate to the Oregon Country, even before it was a territory of the United States. In May 1844, he started with Michael T. Simmons, George Washington Bush and James McAllister for the Pacific Coast (2) along with over three hundred other people in the train (3). There were over eighty wagons and over eight hundred horses, oxen, mules and cattle at the start of the journey (4). After leaving St. Joseph, the trip was uneventful in the first two months except that Indians stole eight oxen in the first few days (5)(6). The weather was extremely rainy and many rivers were flooding. Only 200 miles were traveled in the first 61 days under the poor leadership of General Cornelius Gilliam (

7

).

Jesse Ferguson
They arrived at Fort Hall near Pocatello, Idaho (Southeast Idaho) in October 1844 by following the trail created by the immigration of 1843. Prior to 1843 few wagons had traveled west of this point along the Oregon Trail since Fort Hall was owned by the British Hudson's Bay Company (HBC). The Company discouraged homesteaders from traveling to Oregon since the Canadian-American border was not established until 1846 (
8
)(
9
).
After Fort Hall, the way was more difficult and in order to survive, the pioneers were required to eat birds and anything else that moved to make their way to The Dalles, Oregon, and the next settlement along the Trail (
10
). Wagons were the only means of transportation across the treeless prairies. Most of the party arrived at The Dalles, Oregon, in December 1844 and then pressed onward with a HBC flatboat. The party soon arrived at Washougal, Washington, where for nine months, the group engaged in making shingles for the HBC at Fort Vancouver.(
11
)(
12
).
The party decided to move further north in September 1845 into what is now Washington State (
13
)(
14
). There was hardly enough room for an ox to walk on the path that was known as the Cowlitz Trail and the pioneers had brought their wagons. It took 15 days to cut the 58 mile road from Toledo, Washington, to Puget Sound (
15
). Finally, in late October 1845, the party arrived at Tumwater. This party consisted of 31 men, women and children, and created the first American settlement in Western Washington. During the next few months the party made shingles for shipment to Hawaii to pay HBC for food at Fort Nisqually. The only tools they had for making shingles were an ax and a draw-knife, and they worked in the dense forest where Olympia now stands. It was possible to make from five to fifteen dollars per day. Dr. Tolmie, Chief Trader at Fort Nisqually was especially generous to the newly arrived Americans. Incidentally low prices were charged to the settlers for supplies at the HBC store (
16
).
In 1846 Jesse was 22 years old when he claimed 320 acres on Bush Prairie stretching one-half mile wide and one mile long between the Israel and Trosper Roads (
17
). The corners of his property were near where today you would find Albertson's, Tumwater High School, Littlerock Foodmart Grocery Store and Alderbrook Mobile Estate on the Trosper Road. His log cabin home was built exactly where the Tumwater Middle School now stands (18). In August 1847, he became a partner in the first sawmill on Puget Sound located at the lower Deschutes Falls in Tumwater (
19
).
Jesse joined Tony Rabbeson in the summer of 1848 to work in the wheat fields of the Cowlitz Farm, formerly a part of the HBC (
20
)(
21
)(
22
). George B. Roberts was the manager of the nearly 4,000 acre Farm, but old Simon Plemondon was very involved (
23
). They taught the few remaining Frenchmen on the Farm to save grain by cradling, after which Jesse and his cradle (
24
) were high in favor (
25
)(
26
)(
27
). The Farm remained in operation until 1853-54 when armed American settlers took possession (
28
).
Tony Rabbeson and Jesse became involved in a land dispute with the British who tried to commandeer property just south of the Nisqually River after the Oregon Treaty of 1846 (
29
). The HBC drove a large herd of cattle on to the land in the fall of 1848. A meeting was held by the settlers in Olympia and Rabbeson and Ferguson were appointed to speak with Dr. William Tolmie at Fort Nisqually. The cattle were peacefully removed to the north side of the river, now Pierce County, and no hostilities resulted (
30
).
In April 1849, Jesse went by wagon with four yokes of oxen with Edmund Sylvester, Tony Rabbeson, and Joseph Borst
to be a part of the California Gold Rush. They arrived in Sacramento in July. Due to sickness and heavy rains, Jesse did not do any mining and returned without gold (
31
).
In 1850 Jesse began making square timbers in the new settlement of Olympia for shipment to California. He returned to his claim to live, however he was still affected by gold fever. In October 1851, the Australian sloop Georgiana sailed into the harbor at Olympia. On her departure on November 3rd, Jesse and 26 other men, including James McAllister, Sidney Ford, and three Sarjent Brothers, went aboard for passage to the Queen Charlotte Islands in search of gold (32). The voyage went well until they reached the east coast of the Queen Charlotte Islands and the sailing ship was blown ashore by a strong gale. The fierce, cannibalistic Haida Indians took their clothes, robbed them of everything, held them as prisoner and burned the ship (
33
). As was custom, they were made slaves (
34
). The Haidas used slaves as sacrifices during rituals and were especially savage in the mid-nineteenth century (35)(
36
)(
37
)(
38
).
By good luck communications were made with Americans as far south as Olympia (
39
). A ransom of about $1,800 was prepared by Simpson P. Moses of the U.S. Customs Office in Olympia and dispatched with about 25 American troops from Fort Steilacoom aboard the schooner DamarisCove (
40
) under Captain John W. Balch. The rescue party purchased blankets and trinkets at Fort Victoria from the HBC for the Indians (41) and the exchange was made on about December 27th after 54 days of captivity. A welcoming party was held in Olympia on December 31st and Collector of Customs Moses was honored (
42
)(
43
). Mr. Moses was later reprimanded for his handling a military matter which was outside his jurisdiction as a Customs official in Olympia. The matter later required an act of Congress (
44
)(
45
)
(
46
). Moses returned to practicing law. He was unpopular with most people who were engaged in shipping on the waters of Puget Sound, especially the HBC (
47
).
This experience cured Jesse of the gold fever. Jesse (now 29-years-old) married Margaret Jane Rutledge (known as Jane) (48) on May 29, 1853 from an adjacent homestead. She had come over the Oregon Trail in 1852 with her parents William and Margaret Rutledge and a brother named Thomas who co-founded Littlerock, Washington in 1853. The actual little rock still remains on the family farm eight miles south of the Ferguson homestead at a farm now owned by Cody and Beth Rutledge Miller, (
49
) great-granddaughter of Thomas Rutledge (
50
).
Jesse replaced his log cabin with a boarded two story structure held together with pegs instead of nails (51). It was located on the present site of the Tumwater Middle School. In the backyard was a grove of Oregon White Oaks,
Quercus garryanna
, with edible acorns. The Oak also provided strong sticks for the natives (52)(53) to dig Camas,
Camassia quamash
(
54
) which grew on this part of Bush Prairie. There also was a large patch of Kinnikinnick,
Arctostaphylos uva-ursi
(55)(
56
). The leaves of Kinnikinnick were used in smoking pipes by the Nisqually, Squaxin Island and Chehalis Tribes. It was smoked during tribal councils mixed with other leaves and was believed to be calming and mentally clarifying (
57
).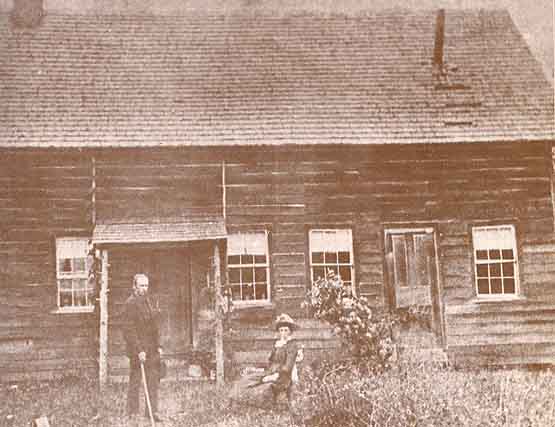 Jesse and his daughter Sarah on the homestead ca. 1880 where Tumwater Middle School now stands.
Photo courtesy of Henderson House.

Also, just west of the house was a spring that ran throughout the year with pure, clean water. This spot, near the shade of the Oaks, was a favorite stop of travelers. The remains of the spring now might be found in the Trosper Lake Park.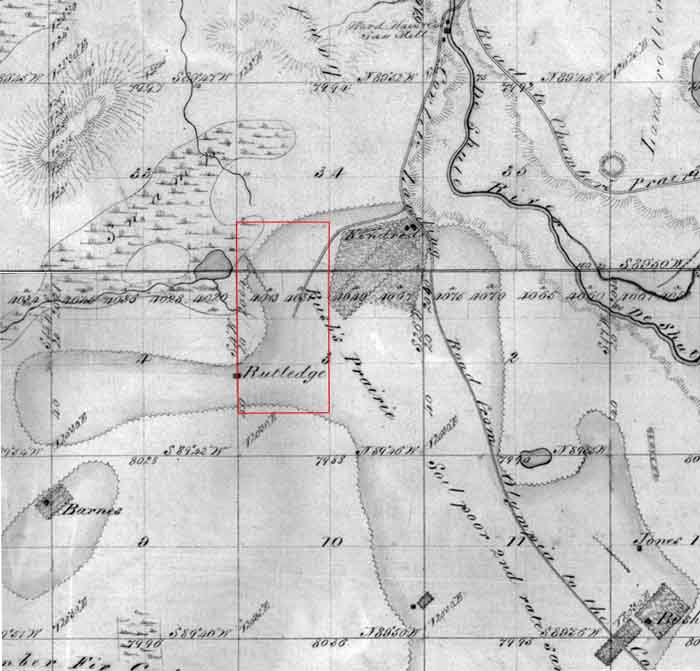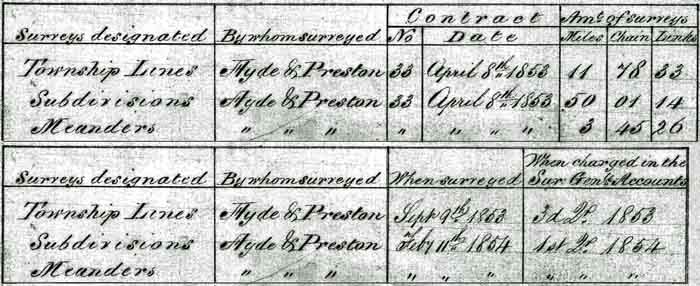 A spring is shown in this 1854 cadastral map by noted Contract 33 surveyors George Hyde and Josiah Preston (58) Taken from Bureau of Land Management

George Warren Hyde (
59
)(
60
) and Josiah Walker Preston came to Jesse's homestead in 1853 and 1854 to establish township and section corners that were a part the land survey system starting in Oregon (
61
). President Milllard Fillmore appointed John Bower Preston (
62
) as Surveyor General of Oregon Territory to create the Public Land Survey System in 1851 that is used throughout Oregon and Washington today (
63
). John and Josiah Preston were brothers from Illinois (
64
). The massive survey began with John Preston setting the point of beginning. It was called the Willamette Stone and is found in a park in East Portland, about 3 miles east of the Willamette River (
65
). John Preston was married to George Hyde's sister - Lucy Ann Hyde. The Willamette Meridian that extends exactly north from the Stone is located about nine miles east of the Ferguson land claim. Josiah Preston later moved back to Illinois where he became President of the Chicago Board of Trade 1871-72 (
66
).
A barn was constructed just north of where the Middle School parking lot is now located and was in use until at least 1943 (
67
). It was fastened together with wooden pegs (68).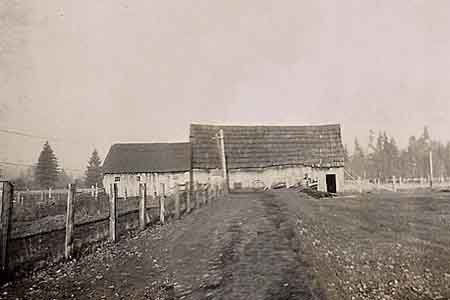 Jesse's barn ca. 1940 near where Tumwater Middle School now stands.
Photo courtesy of Jayne Redman Bade.

During the Indian War of 1855-56, Jesse and the Rutledges built a blockhouse near the boundary between their claims now marked by a memorial (
69
)(
70
) just one-quarter mile south of the Middle School (
71
). The blockhouse was never occupied, but was available in an emergency (72). Jesse was able to remain near his home with his wife and family during this troublesome time. Jesse attended the Thurston County Democratic Convention in the blockhouse in Olympia in June 1856 representing the Black Lake Precinct (
73
).
William Rutledge built the renovated old house just north of the stone marker in 1853 (74).
This makes it the oldest structure in Thurston County.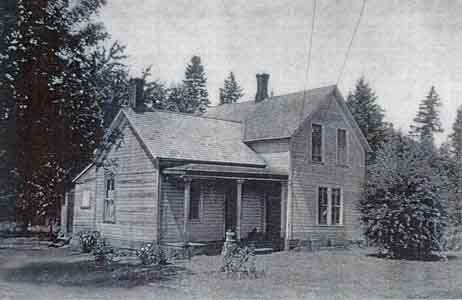 William C. Rutledge house ca. 1922
Built at about the same time daughter Jane married Jesse in 1853
Oldest structure in Thurston County
Photo courtesy of Dale Rutledge
Jane suddenly died in childbirth at the age of 31 in January 1861 (
75
)(
76
) leaving Jesse with five children:
Henry Cleveland (1852--1894)

David S. (1855- )

Samuel (1856-1929)

Sarah Jane (1857-1921)

C. Anna (1859- )
(Henry was the son of Jane, perhaps by an earlier marriage. He was born just before Jane traversed the Oregon Trail in 1852.) (77) Unrelated to this matter, a man named Winfield Scott Cleveland was married to Rachel Rutledge, Jane's sister. He built the Rutledge barn in Littlerock (
78
).
Trosper
Jane Ferguson and her daughter were buried on the Ferguson claim in an area that had been used for burials previously, including those who died during the Indian War (79)(
80
). Jesse sold about two acres of land for a cemetery in December 1867 for ten dollars (
81
)
(
82
).
It was named the Union Cemetery and is about one-quarter mile north of the Middle School on the Littlerock Road where the graves of many pioneers are found including Charles Mason first Secretary of Washington Territory who died in 1859 (
83
)(
84
) and for whom Mason County is named (
85
)(
86
)(
87
). Jesse sold another 2.3 acres of adjoining land to the Roman Catholic Church in 1873 and it became the Pioneer Calvary Cemetery. (
88
) Representing the Church was Bishop Augustin Blanchet who had been forced from Walla Walla not long before the Cayuse War (
89
).


Gravestone of Jesse Ferguson.
Photo ca. 2010.


Gravestone of Jesse Ferguson.
Photo ca. 2015
In May 1861 Jesse attended the Thurston County Democratic Convention held in the Council Chamber of the Capitol (
90
). He represented the Black Lake Precinct as before.
Ada Sprague reminiscing in 1911... After 1869 "Jesse Ferguson's farm was another place I loved to go. At threshing time my mother always helped the Ferguson girls cook for the threshers. Work was traded in these days and at log rolling time on our place the neighbors helped my mother. One of the sorrows of youth, that is still a regret, was a wonderful dinner I could not eat because of sickness, when there was a log rolling bee at our place (
91
).
The Ferguson farm not only produced cattle, but sheep were also a favorite on Jesse's homestead (92). The children remained at home through 1870 (
93
)
In the fall of 1885 a scheme to develop Ferguson's lake as a municipal water source for the City of Olympia was considered. (
94
) A Metsker map for Thurston County in 1924 showed Trosper Lake as Ferguson Lake. It is not clear when the name was changed (
95
).
Jesse was a kind, retiring old man in his later years. Although he signed his name with an X and could not read or write, he managed well.
His friends and neighbors always held him with high regard.
Only good things were said about "Uncle" Jesse (96).
In August 1890 Jesse sold a strip of land 100 feet wide and over three quarters of a mile long to The Portland and Puget Sound Railroad Company (97).
The Union Pacific Railroad may have chosen this name in the beginning to reduce land speculation
(
98
). Although the complete route from Seattle to Portland was surveyed, much of the right of way purchased, and 25% graded, no rails were ever laid. Construction began in May 1890, but came to a halt about six months later. This was due to a cash flow problem, bad surveys, and the Depression of 1893 (99). Part of the right of way was still passable near Tumwater in 1939 (100). The strip of land Jesse sold to the railroad would have intersected the Interstate 5 Freeway near the Israel Road overpass. It would also have crossed the property now occupied by the Costco parking lot (
101
).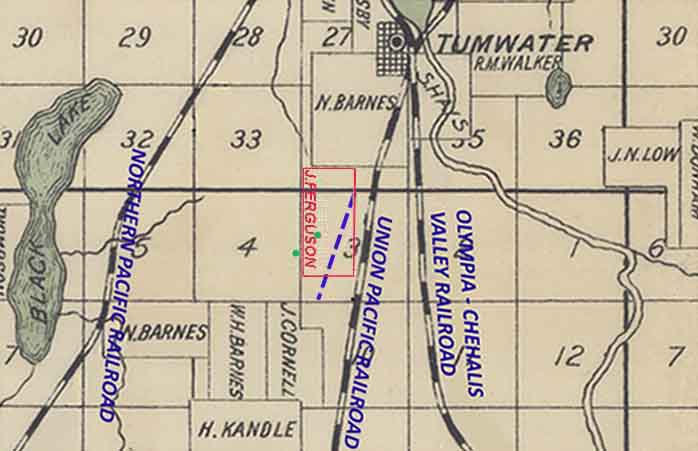 Proposed Union Pacific Railroad as considered in Section 3 in 1890.
The original map was made for a mortgage company in 1900, but was not accurate (102).
The added dashed line above shows surveyed line for railroad right of way in 1963 (103).


The Union Pacific Railroad showed the new railroad line on their 1890 system map and it was called The Portland and Puget Sound Railroad (
104
). The railroads in Tumwater began to decline after 1916 (
105
).
In 1898 a young lady appealed to Jesse for assistance to prevent a marriage that she thought would fail immediately. Miss Ida Robinson did not want to be taken to the gold camps in Alaska. Jesse was referred to as the "chief patriarch of the community" (
106
).
Jesse never remarried, but continued living with his married daughter, Sarah Jane Lee, on the old homestead until his death on December 16, 1900 at the age of 76 (
107
). He was the last remaining adult of the famous pioneer party, founders of the first American settlement in Western Washington (
108
). Part of the homestead was later sold to William L. Bishop who died at he age of 91 in July 1954 (
109
). Seventy acres of that land were sold to Clarence Redman in 1932, which included where the Tumwater Middle School now stands (110) which opened in 1967. Eighth grade students at the School learn about Tumwater pioneers such as Jesse Ferguson via the hands-on Homesteader program (
111
).
In 1982 Jim Whisler and Ralph Swanson asked Jim Brown, City Public Works Director, to name a street after Jesse. It is called Ferguson Street and is located in northwest Tumwater in an area known as the Mottman Addition (112)(113)..
Two famous old trees remain as a part of Jesse's legacy. They are located in the Mills and Mills Memorial Park and are documented as two of the largest healthy American Chestnut trees in the United States (
114
). The trees were immediately behind the former large house of David Ferguson, Jesse's son, until about 1950, when the house burned (115). The trees were memorialized February 20, 2015, with the placement of a monument at the base of the trees.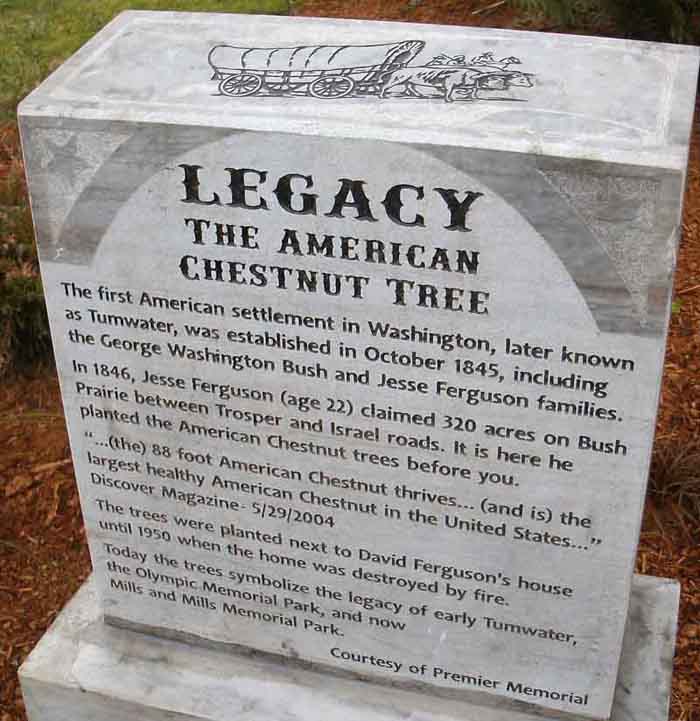 Photo February 2015 by Webmaster.


Also, there is at least one remaining Northern Spy Apple tree planted by Jesse that is being perpetuated by Michael Dolan, orchardist and tree historian (
116
). Two fruit tree nurseries were first established at Grand Mound in 1852 and later others at Steilacoom, Tumwater, and Cowlitz Landing (
117
)(
118
)(
119
)(
120
)(
121
)(
122
). Jesse planted Northern Spy Apple trees near his house (
123
) as well as near the Trosper Road on the north edge of his property (124). He was fortunate to find his favorite apple at Durgin's Grand Mound Nursery (125).